22.12.2021
Thank you for an eventful year!
From local meetups to Infoshare conference, the biggest tech conference in CEE.
Infoshare is first and foremost a community of innovation-passionate professionals. From the very beginning, our mission is to share what is worthy. 2021 has been, once again, a time of struggle with the pandemic. We are very pleased to report that Infoshare has once again evolved, adapted, and raised to the occasion. This year, we finally got to meet you in person! We've managed to organize 22 separate events for our community; all of them, per usual, with a no-marketing-bulls**t policy.

This year we were able to organize a two-day Infoshare conference that, we are happy to say, is still the biggest tech and startup conference in Central and Eastern Europe. The most magical aspect of the conference, though, was the ability to meet our community face to face once again after over a year of a break! 
Knowledge & inspiration
In 2021, we had the immense pleasure of hosting 124 speeches delivered by renowned innovators and remarkable experts, such as Brittany Kaiser, Rob Smedley, Erika Cheung, Vitaly Friedman, Craig Spence, Piotr Konieczny, Janina Bąk, and much more! In total, 171 domestic and international speakers joined us to create this year's edition set across 5 thematic stages: Arena, Inspire, Marketing, DevTrends, and AdvancedDev.* 
*Did you know that, if you purchased this year's pass, you can still watch Infoshare 2021 speeches? Simply log in to your account, go to Agenda & Recordings and select the speech you'd like to watch.
Our attendees
About 4500 attendees from 48 different countries, including startuppers from 523 companies, gathered both online and in-person to learn and get inspired during this one-of-a-kind celebration of technology. 
Startup Contest
As usual, we also strive to facilitate business growth and help game-changing startups. Over 300 startups applied for this year's Startup Contest but there are only three that can take home a prize. BeFC, the pioneers in biofuel and eco-friendly cells, won the contest and got the main prize of 20,000 euros in cash! The second-place winner was Animal Alternative Technologies, which goal is to replace animal farming with cultured meat with the usage of cutting-edge biotechnology. The third place was taken by Positive Carbon, the authors of a fully automated food waste monitoring solution. 
Networking & Matchmaking
But the annual Infoshare conference isn't only about the knowledge and inspiration we share at the main venue—it's also about networking. This year our attendees scheduled 672 matchmaking meetings, during which they met potential new business partners, employees, investors, clients, and job offers. 
Networking & Side Events
Our attendees could also enjoy up to 5 different side events: Before Party, Welcome Dinner, Sunset Leaders' Boat Trip, Great Networking Party, and After Party. The most popular among them was the Great Networking Party featuring a live concert of Fisz Emade Tworzywo, one of the most recognized stars of the Polish hip-hop/jazz scene. 
Can't wait for Infoshare 2022? 
Infoshare 2021 was truly spectacular! Just check out the Infoshare 2021 photo gallery. We hope you loved the conference as much as we did and we'll see you again in May. But did you know there are plenty of ways to join the biggest tech conference in CEE? You can get a pass and join us as an attendee (sign up for the reminder) or you can join us from backstage as a speaker, volunteer, or partner. 

Tech3camp is a series of thematic IT-related meetups held mostly in Polish. We are proud to say these are the most recognized IT meetups in the Tricity area. Each meetup is free of charge and features 3 short speeches delivered by experts followed by networking over pizza and craft beer, where attendees discuss their experiences. 
12 meetups in 2021
This year we organized 12 such meetups, revolving around Java, Python, DevOps, Front-end, UX/UI, Data Science, Machine Learning, and more. The meetups were available both in-person and online and gathered nearly 3000 registered attendees, including software developers, database administrators, software testers, IT system architects, security specialists, and IT company owners. During Tech3camp meetups, the invited experts delivered in total about 1400 minutes of substantive speeches (most of them are available here). 
Looking forward to the next meetup?
Tech3camp #84 will be devoted to Java. It is scheduled for the 25th of January (at Olivia Business Center and online), but you already can register for it (registration form in Polish)! Don't hesitate, the number of attendees is limited!

Future3 is a job fair dedicated to both juniors and more experienced professionals in the IT industry. It is the biggest technology job fair in northern Poland and it is free of charge. 
2196 attendees
This year, the online event gathered about 2200 registered attendees, from junior to senior specialists as well as students, and over 40 companies with their exhibitions. During the fair, you could meet such industry giants as Intel, Aspire Systems, Sii, Boeing, Lufthansa Systems, Nordea, Arla, and more! They posted over 400 job offers, scheduled 200+ one-on-one meetings, and received more than 1500 CVs! It was undeniably a great chance to explore the current labor market and find a dream job or a valuable internship.
Opportunity to learn
The two-day fair featured also 10 substantive speeches delivered by recognized Polish experts, such as Paweł Noga, Wojtek Ptak, or Aleksandra Bis. The average mark on speeches was 4.72 out of 5! You can still listen to them here. 

Pipeline Summit is a digital sales conference, held in Polish, dedicated to tech salespeople and entrepreneurs. It's a great opportunity to listen to top-notch experts, broaden your knowledge and expand your business network. 
4 meetups
This year, instead of the usual conference, together with the city of Gdynia we organized 4 Pipeline Meetups. Each event featured up to 4 speeches delivered by domestic and international experts in B2B sales, such as Mike Korba, Agata Krzysztofik, Anita Toth, and Piotr Grządziel. Recordings from the meetups are available on the event's website.
Another Pipeline event is coming in 2022. Do you want to be the first to know about the start of the registration? Sign up for a reminder here.

Infoshare stations primarily in Tricity but every once in a while we leave our beloved Gdańsk and hit the road! This year, we visited 4 cities in the north of Poland: Olsztyn, Toruń, Bydgoszcz, and Szczecin. Each meetup featured 3 short speeches delivered by experienced developers (Adam Zielke, Maciej Przepióra and Michał Szczech) followed by networking over pizza and craft beer. 
We're planning to hit the road again in 2022—maybe this time we'll visit your town? Stay tuned!
This year we also came up with yet another way to stay in touch and share what is worthy—three thematic newsletters for innovation-passionate professionals. Each one of them includes a section curated by experts, a recording of a speech delivered during Infoshare conferences, and Infoshare news (including occasional discount codes). 
#SoftwareDev
Held in English. Contains links to articles, news, useful tips, and techniques in 5 fields of IT:
#Marketing
Held in Polish and contains recommendations by the Infoshare marketing team on interesting articles useful for marketers as well as a section curated by one of the Polish leading experts in marketing containing recommendations on: 
an industry-related article or book,
an interesting podcast or video on marketing,
and a TV show, movie, or a book that stole our curators' hearts. 
Each edition of the newsletter is curated by a different Polish expert in marketing. So far, this section was curated by such marketing masters as Tomasz Palak, Kamil Bolek, Paweł Sala, or Tomasz Manikowski.
#Startup
Held in English. Every month our own startup expert Agnieszka prepares a thematic newsletter revolving around one of the trending topics in the global startup ecosystem. Prepare for a solid dose of knowledge and numerous links to relevant articles! Agnieszka has already covered such topics as the Internet of Things, Industry 4.0, Creators Economy, and much more.
Sound like something for you?
You can check further details on the newsletters and sign up for them here.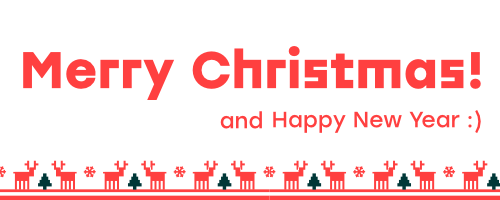 As we sum up 2021, we cannot help but turn our grateful thoughts to the Infoshare community. Thank you for staying with us and joining our events! May the upcoming year bring even more possibilities to meet and grow stronger together! Please accept our warmest wishes: Merry Christmas and Happy New Year!
Tags: