5700
Attendees
171
Speakers
191
Partnerships
1500+
Startuppers
5 Stages
Intended for software developers, startuppers, investors, corporate representatives, and marketers, Infoshare devotes five stages to sharing knowledge and ideas. You can find a solid dose of tech content on the DevTrends and AdvancedDev Stages, business trends and innovations on the Inspire and Arena Stages, and digital marketing trends on the Marketing Stage.
October 11th
MATCHMAKING
It's the beginning of the Matchmaking season! Startupers, Investors, Networkers, and Executives can now meet via our matchmaking tool both online (11th-15th) and in person (14th-15th). Don't forget to visit our Virtual Startup Expo starting from 11th!
October 13th
The official part of the Infoshare conference begins on Thursday, but we invite you to the Welcome Dinner and Before Party on Wednesday evening.
WELCOME DINNER
19:00
It's a great opportunity for Speakers, Investors and Executives to meet and network at dinner with a delicious menu.
Access only for Executive and Investor Passes holders.
BEFORE PARTY
20:00
Join the before party, feel the vibe and meet other attendees with whom you're going to share the experience!
Access for all pass holders.
October 14th
Lights, camera, action! It's the first day of the conference! Let's begin with the grand opening on Inspire Stage and then move on to whatever stage you'd like (as long as it's within your pass). Remember, you can join us in person in Gdańsk but you can also be with us online. Don't forget to show up to our Great Networking Party as well!
Starts at 10:00
ARENA
Topics:
• Business tips
• Startup growth
• Startup support programmes
• Startup Contest semifinals

Speakers:
• Erika Cheung
• Zoltan Vardy
• Maciej Stępa
• Jani Rusi
Access only for Conference, Startup, Networker, Executive and Investor Pass holders.
SUNSET LEADERS' BOAT TRIP
17:00
Join our cruise dedicated to Speakers, Executives, Investors and special guests. The trip will let you continue your conversations and strengthen relations with other attendees. Exquisite catering and drinks will for sure help as well.
Access only for Executive and Investor Passes holders.
GREAT NETWORKING PARTY
20:00
Let's have a real networking party in person! We missed it so much. Seize the unique chance to make new friends and business partners in an laid-back atmosphere.
Access only for Conference, Networker, Executive, Investor Passes holders.
October 15th
Let's start day 2 with breakfast with Just Join IT, our Exclusive IT Job Board Partner. Then, take a seat, make yourself comfy and dive deep into technology, business and marketing trends. Today, you can check out who's won the Startup Contest main prize. Complete the experience by raising a glass to Infoshare at our After Party.
Starts at 9:00
ARENA
Topics:
• Business tips
• Future of work
• Effective management
• Technology

Speakers:
• Vân Anh Đàm
• Tina Ruseva
• Mick Griffin
• Ben Greeven
Access only for Conference, Startup, Networker, Executive and Investor Passes holders.
AFTER PARTY
21:00
After two exciting days of broadening your knowledge and expanding your network, come to our After Party. Unwind, have fun and share your thoughts about Infoshare 2021 with other attendees.
Access for all pass holders.
Top Infoshare 2021 SPEAKERS
INNOVATORS, LEGENDARY TECH CREATORS, AND REMARKABLE EXPERTS. MEET the FIRST INFOSHARE 2021 SPEAKERS! THIS LIST CONSIST OF SPEAKERS FROM ALL CONFERENCE STAGES.

Brittany Kaiser
CAMBRIDGE ANALITYCA WHISTLEBLOWER AND DATA RIGHTS ACTIVIST

Krzysztof Kudrynski
NVIDIA

Rob Smedley
Formula 1 Data Science Expert

Erika Cheung
THERANOS WHISTLEBLOWER AND ADVOCATE FOR ETHICS IN ENTREPRENEURSHIP

Vitaly Friedman
Smashing Magazine

David Polgar
All Tech Is Human


Ria Thomas
Polynia Advisory


Lidor Gerstel
Centerity Systems

A.Mahdy Abdelaziz
ExtraVerd

Piotr Konieczny
Niebezpiecznik.pl

Sebastian Daschner
Java Champion


Janina Bąk
JaninaDaily.com

Fionn Ferreira
Fionn & Co.
Startup Contest
Compete for 20,000 euro in the Infoshare pitching contest.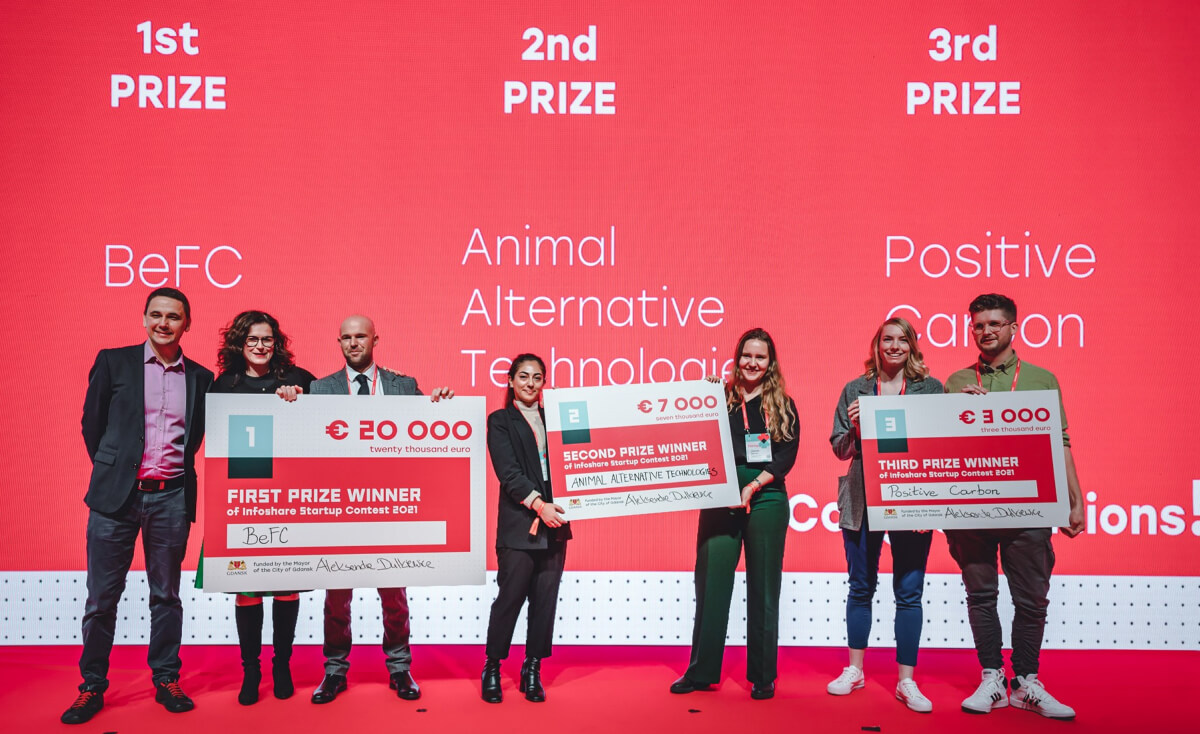 Startup Contest takes place every year (from 2014) during Infoshare Conference, allowing the authors of ideas for innovative business and startup companies to appear before investors invited by Organizer and audience of Infoshare conference.


Learn more
Contest 2021 winners
TESTIMONIALS

"The first business benefit of participating in infoShare is promoting our cloud solution, our AI, IoT technologies but also really having access to people that have fantastic innovative ideas on how to use them in the real life, to solve a business problem, to solve a humanity problem."
Przemysław Szuder
Microsoft

"I really like the atmosphere and ability to pick different topics from the very interesting agenda. I appreciate that I have a chance to catch up face to face with different startups and investors to exchange the knowledge."
Bogusław Tobiasz
Bayer

"I was very impressed with the entrepreneurial energy, passion and intellect. Simply, it was one of the best conferences I have ever attended."
Greg Slamowitz
G. Slamowitz & Co

"It's a great setup, great venue. Terrific"
David Allen
Getting Things Done

"The level of technical talent in Poland and CEE is massive. I think the people here have the opportunity of solving some of the world's biggest problems if only they point their intellects in the right direction."
Seth Bannon
Fifty Years

"infoShare is a massive conference. Apparently the biggest one in Central Europe."
Filip Wolski
Open AI

"infoShare is such a variety. You're not just building your narrow career networking, you're also building across the industry. It's very beneficial because you're building more connections. "
Zoe Rose
Baringa Partners

"I choose infoShare because of the location. I'm long on Central and Eastern Europe. I'm an investor so I'm always curious to see what's happening in these markets and I really thought this would be the best chance because it's a huge event."
Colette Ballou
Ballou Capital

"I was excited to be a speaker at infoShare because it's great opportunity to get in front of a diverse audience. You have startups, companies, and investors. All in one place around technology."
Thomas Thurston
Growth

"This is a kind of conference that really brings the region together and the technology professionals"
Robin Wauters
tech.eu
Media about us
"Infoshare is amazing! It allows you to meet all the startup and entrepreneur from the Polish ecosystem in a couple of days."
"Infoshare - a celebration of the digital world"
"There is no such accumulation of knowledge and inspiration anywhere else"