Infoshare STAGES
TOP-CLASS KEYNOTE SPEAKERS JOIN INFOSHARE AND GIVE THEIR GREAT SPEECHES ON 5 THEMATIC STAGES! DIVE DEEP INTO TECHNOLOGY, MARKETING, AND BUSINESS TRENDS. GET INSPIRED AND SHARE WHAT IS WORTHY.
Inspire
STAGE
Listen to business prophets and check out current trends. Learn how to not only survive but also stay strong on the market. The Inspire Stage brings you both a lot of inspiration and tons of useful knowledge.Listen to visionaries and experts who know how to build successful tech businesses. This is the place to be for startupers, VCs, and tech company owners.

Get inspired and pick up a few growth tips for your business. All that and more on the Inspire Stage.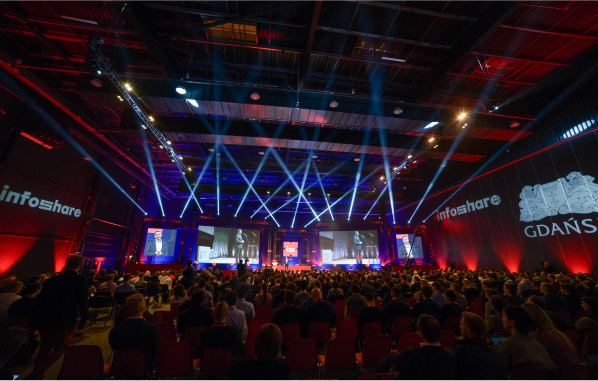 TOPICS:
Business Trends
Tech4Good
Dangerous Tech
Growth tips for startups
Scaleup stories
Investors' perspective
Startup Contest final
Arena
STAGE
The Arena Stage hosts the Infoshare Startup Contest semifinals, provides you with startup & scaleup stories, tech & business reports and analyses, growth tips for your business, and introduces new products and services.

The Arena Stage brings a festival of innovations - make sure you don't miss it!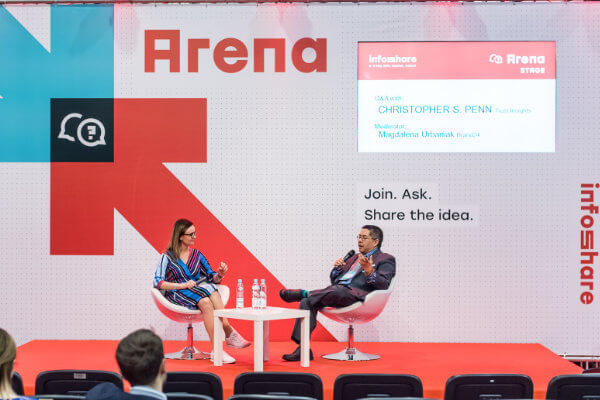 TOPICS:
Business tips
Startup ecosystems
Investment strategies
Startup stories
Startup Contest semifinals
Marketing
STAGE
The Marketing Stage offers a holistic approach to the matter at hand with such topics as communication & content marketing, verification of its efficiency, data analytics, martech trends, and digital transformation.

Learn how technologies are changing marketing and how you can use them in your day-to-day work.

Sponsored by: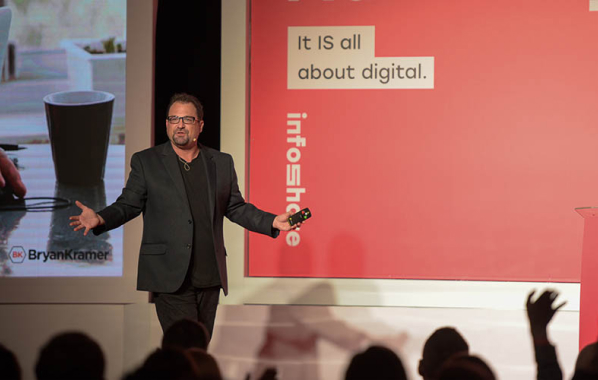 TOPICS:
Web analytics
Social media marketing
SEO/SEM
E-mail marketing
Marketing automation
Content marketing
Video
Podcasts
Blogs
E-commerce
DevTrends
STAGE
The DevTrends Stage puts forth a number of success stories on implementing technological innovations into businesses. Find out what the future brings and in which direction the world of development is evolving.

Technology trends are changing as we speak and technical companies are doing everything they can to stay up to date with new advanced tech solutions. Bring your company up to speed as well!

Sponsored by: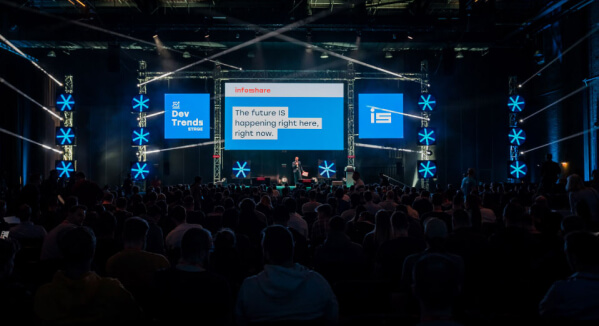 TOPICS:
Frontend & web
UX/UI
Team building & motivating
Project management
Data sciences
Data analysis
Big Data
Quantum computing
Backend
Software architecture
Cloud solutions
AI / ML / DL
RPA / Robots
CyberSecurity
Blockchain
AdvancedDev
STAGE
The world of digital technology is evolving very quickly, slipping into new areas.

Programming is constant learning. New libraries, patterns, diagrams, and architectural concepts appear everyday. Are novelties worth applying? In what conditions do they work best?

Dive deeper! Meet experts and developers who implement various types of technology into everyday life.