27.02.2018
Business experts' perspective on the biggest 2017 surprise and failure, and THE trend for 2018 - "Grow with Tech" magazine
Business experts in "Grow with Tech" magazine - Piotr Dytko (KGHM Cuprum Ltd Research and Development Centre), Piotr Widacki (BGŻ BNP Paribas), Pierre Lechelle (pierrelechelle.com), Eric Siu (Single Grain) and Samar Singla (Jugnoo) - have shared their opinions on the most significant 2017 surprise and failure, and predicted the most important 2018 trend. Here's what they said.
27.02.2018, added by Piotr Dytko (KGHM Cuprum Ltd Research and Development Centre), Eric Siu (Single Grain), Pierre Lechelle (pierrelechelle.com), infoShare
Business experts in "Grow with Tech" magazine - Piotr Dytko (KGHM Cuprum Ltd Research and Development Centre), Piotr Widacki (BGŻ BNP Paribas), Pierre Lechelle (pierrelechelle.com), Eric Siu (Single Grain) and Samar Singla (Jugnoo) - have shared their opinions on the most significant 2017 surprise and failure, and predicted the most important 2018 trend. Check all the articles in the "Grow with Tech" magazine no 2 http://growtechmag.com/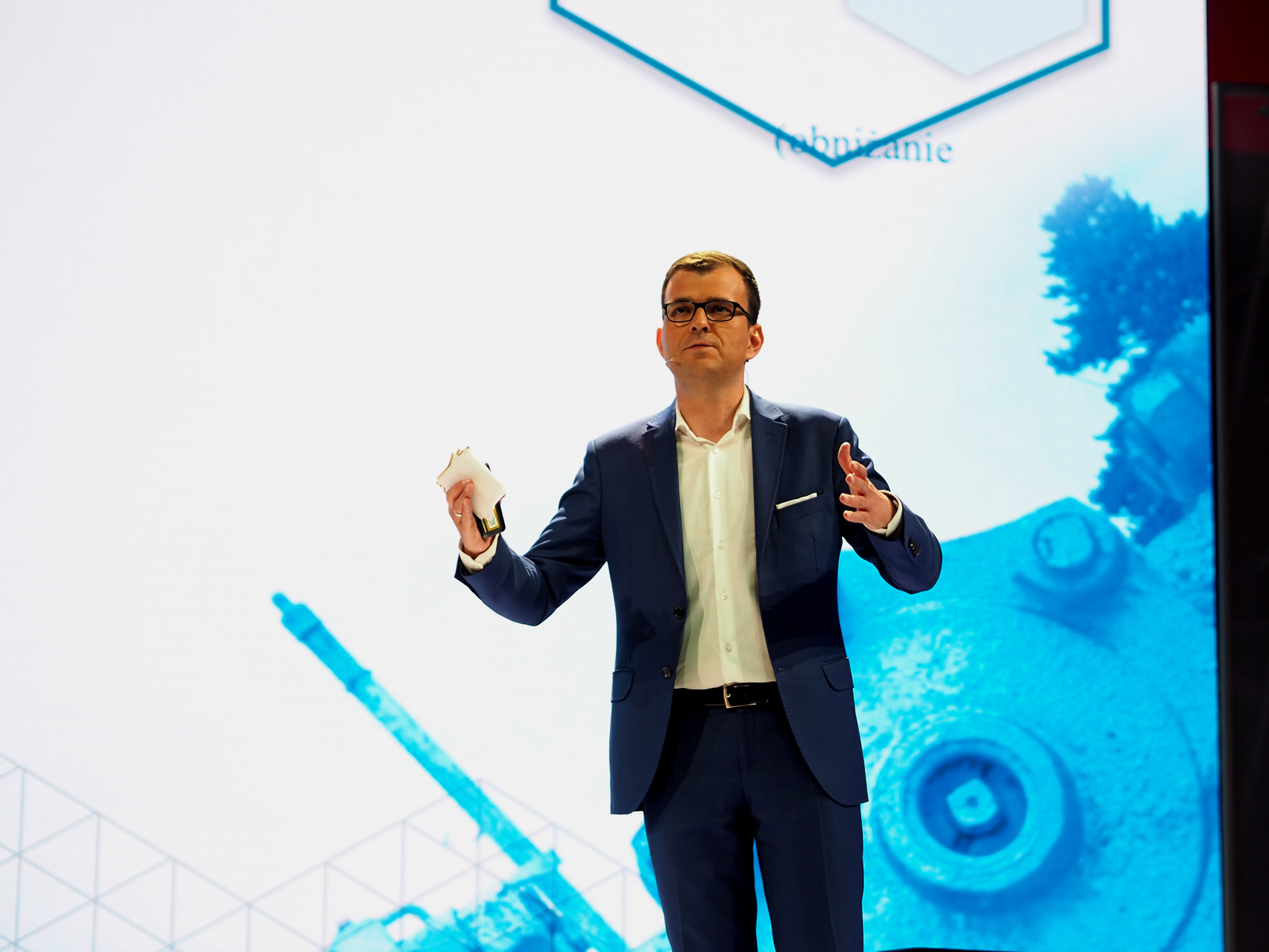 The Chairman of the Management Board of KGHM Cuprum Research and Development Centre Ltd. Successful manager with a lot of experience in the private and public sector. Participant and speaker at numerous conferences and thematic congresses.
The biggest surprise of 2017
Polish people are seen as very creative and entrepreneurial by nature. For years, it has been obvious we can do much more than offer outsourcing centres and competitive salary. We are able to design game-changing innovations. Many of us dreamed Poland would become another startup nation. The determination startups, NGOs, governmental agencies and state-owned companies showed that to implement the plan of innovative revival in 2017 was rather unexpected.
The Scale Up project turned out to be a great success. It aims to combine the potential of creative, beginner entrepreneurs with the infrastructure, experience, and resources that large state-owned companies, among others, can provide. As part of the project, in cooperation with Polish tech startups, we develop interesting technologies whose aim is, among others, to:
•    help reduce the costs of industrial drying and thermal energy consumption, 
•    anticipate failures, and assess the approximate life expectancy of machines, 
•    design unique magnetic materials, 
•    conduct mobile underground construction, 
•    increase the efficiency of generators, 
•    enable sound and vibration damping in industrial conditions
•    increase the efficiency of metal extraction. 
We believe that some of these projects may become true game-changers for the KGHM Group, and that the pilot acceleration project will be an important part of the corporate innovation system. 
The biggest failure of 2017 
Instead of mentioning events that disappointed me in 2017, I would rather discuss negative surprises, as the unexpected is a much more motivating factor. At the end of 2016, on behalf of the KGHM Group, we started a pilot acceleration programme. There had been no startups in the group's history at that point, so the challenge we took up was a pioneering one indeed. Together with our partners – especially MIT Enterprise Forum Poland, whose acceleration programme we take part in – we started a series of meetings at universities to look for innovative startup projects in the Raw Materials Acceleration Track. 
Surprisingly, the number of startups ready to offer solutions to the mining industry was very small. The needs of the sector are huge and as the global leader in copper and silver production, covering the entire production chain, from extraction, enrichment, metallurgy to processing and final products, we can offer unique development opportunities. We found out that, unlike in fintech, the Internet of Things or Industry 4.0, the mining and raw materials sectors do not have a so-called startup culture. One of the reasons may be the fact that these sectors are thought to require large investments and impose uncompromising safety regulations.
Indeed, to emerge in the sector the world's economic development has been based on for centuries, you need more than just an idea, a MacBook and a cup of latte. Nevertheless, we are running several projects at the moment and they are tangible proof that tech startuppers can feel great in this industry. One of KGHM Cuprums's major aims for 2018 is to strengthen the startup culture in the mining industry.
The trend for 2018
I believe the European startup ecosystem will keep growing and strengthening. The level of optimism among European innovators who decide to start their own business is very high – up to 90%, according to the State of European Tech 2017. One of the characteristic features of European projects is their sensitivity to social issues and the challenges today's communities face. This is also a very important aspect for the KGHM Group, deeply rooted in the community of the Legnica-Głogów copper district. I wonder if there will be a project able to combine the raw materials sector and the traditional social aspect it is characterized by. 
According to the STET research, Great Britain was the innovators' mecca in 2017. There is no doubt, however, that Brexit will have an impact on this trend. Who knows, perhaps Poland, with its strong support for startups, will be their next number one choice? As for our country, one of the upcoming trends may be the growing number of startups operating in the raw materials and Industry 4.0 sectors in southern Poland, where the major market players are based. I would like them to focus on Lower Silesia and Wrocław in particular.
From our experience, we know that, contrary to what is usually said about remote work, the close proximity of startups and corporations is one of the conditions necessary for the success of their common adventure in the world of innovation. And one of the major trends we will experience in the upcoming years will be, in my opinion, the process of startups coming closer to the so-called traditional industries. New, innovative solutions, products, and even markets will emerge from this combination. 
At the same time, I would like to emphasize the fact that innovative ideas are born in KGHM Cuprum not only as part of the startup acceleration programme. For over 54 years, our company has been creating and implementing game-changing solutions for the mining industry. And we still have a lot to add. 
Pierre Lechelle ZDJĘCIE AUTORA
https://www.pierrelechelle.com LINK

Pierre helps B2B SaaS companies build & manage high-performance Growth Marketing Teams. Focus on helping to create a scalable and sustainable process to consistently grow business. More on https://www.pierrelechelle.com.
The biggest surprise of 2017
The rise of very deep and complex data integrations allows you to know your users much better than before, even for anonymous visitors.
Just with an API call to Clearbit Reveal (LINK Clearbit Reveal), you can now know the industry and company size of each anonymous visitor. People who know how to use that data will be handed an incredible competitive edge over the next few years.
Before Stripe got started in 2010, it was extremely complex to handle payments. Now, it's as easy as writing a couple lines of code.
When Algolia got started in 2012, it was very hard to create a search engine. Now you can use Algolia to handle all of that for you.
More and more APIs will allow you to do very complex things and help you to improve the experience for your customers.
The biggest failure of 2017 
I see many B2B SaaS businesses really struggle with their Marketing & Sales Stack. The number of tools is increasing and it's becoming harder and harder to make them communicate with each other.
You have one set of software to send emails, another to record information about your customers. They barely talk to one another and information falls through the cracks.
Even if the promise of vendors like Salesforce or HubSpot is to run your entire ecosystem on their platform, we aren't there yet, and big issues arise. I'm guessing the following years will have some interesting surprises.
  
The trend for 2018
It's not a new trend, but I expect cryptocurrencies and blockchain to play an even bigger part in the industry. This means that we'll start to see applications outside the tech ecosystem that we never imagined before.
I expect cryptocurrencies and blockchain to be everywhere. From handling your daily payments to the infrastructure of all your providers, they are going to help us increase the power that we have and help everyone be more transparent.
Eric Siu ZDJĘCIE AUTORA
Single Grain LINK https://www.singlegrain.com/ 
CEO of digital marketing agency Single Grain, which has worked with companies such as Amazon, Uber, and Salesforce to help scale their revenues using a combination of paid advertising and SEO strategies.
The biggest failure of 2017 
Although I think initial coin offerings, or ICOs, have potential in the future, right now there a huge amount of scammers raising millions of dollars only to disappear. ICOs have raised billions in 2017; even more than what venture capital has raised. To me, the failure to put in safeguards from causing people to risk their livelihoods is one of the biggest fails of the year. Again, I think the technology has huge implications for the future for every industry.
The biggest surprise of 2017
The power of engaging with customers via chat has continued to grow. You now see chatbots on e-commerce sites, software sites and large corporations like American Express. They're just another way to engage with customers because people like engaging in conversation.
The trend for 2018
I think voice will continue to grow as a trend. Look at Alexa, Google Home, etc. – these big companies are putting in large sums of money to collect as much data as they can because the voice is the next wave to capitalize on.
 
Tags:
---
See also: