30.11.2017
Livespace & ARIA Fund – one successful date is enough to begin a long-lasting relation
Livespace is a new generation CRM (Customer Relationship Management) system which enhances the productivity of B2B sales teams. We have ambitious plans for the product development and entering foreign markets so we wanted to buy ourselves some time and quickly do things that need a bigger capital. We met our future investor, Aria Fund, in May this year at infoShare. A discussion with Michał Skurowski, Livespace CEO
An interview by Agnieszka Meller, infoShare
AM: Livespace is a new generation CRM (Customer Relationship Management) system which enhances the productivity of B2B sales teams. It sounds professional and serious. How can we explain what your product is about to someone who is not in the business and doesn't understand all these English loanwords?
Livespace, Michał Skurowski: To put it shortly, we create a tool which helps companies organize their sales department better and as a result sell more effectively. When using Livespace a salesman has all the information about his clients close at hand, he knows what goals he has to meet and what he should do to win the next order. We have created a set of facilities for salesmen and sales managers to speed up their work and automate the most time-consuming and repetitive activities.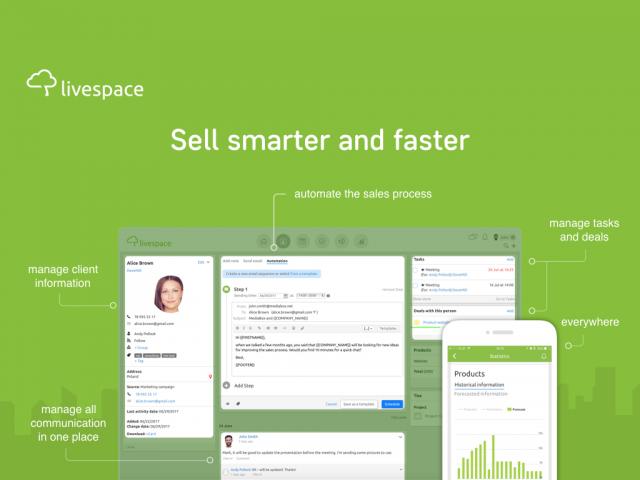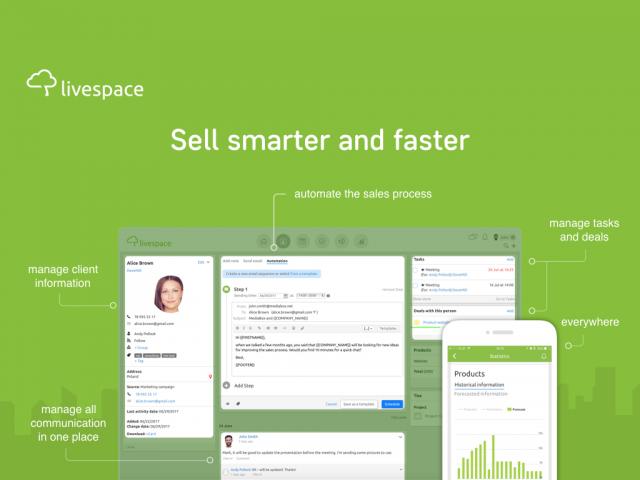 AM: Three years ago Spider's Web was afraid that companies implement solutions similar to yours because… others do it and that it is only a temporary fad. As time has shown they were wrong. Nevertheless, how would you answer the question: "What is this product for and what problem does is actually solve for companies?"
MS: Surely we are not talking about a fad but about a long-term trend in technology supporting sales and helping to achieve better results. One of the main problems that make companies lose their chance for fast growth or even fail is a so-called leaking "sales pipeline" (the sales process). Research shows that as much as 80% of potential customers (who could buy our product) fall out of the pipeline. There are many reasons e.g. a salesman failing to respond to a customer's need at the right time, an offer mismatch or communication difficulties within the sales team. Livespace solves these problems. It was developed so that salesmen would always have the information relevant at a specific moment and clarity about the next steps they should take to win the order.
AM: Who are your biggest competitors today? 
MS: Very often it's simply Excel and email clients where salesmen keep valuable information about their customers. There are tools like Salesforce, Microsoft Dynamics, Base or Pipedrive which are our benchmarks because they try to solve the same problem – every one of them does it in its own way and has its "secret sauce". Livespace, on the other hand, enables precise planning of the sales process meaning the specific activities that have to be carried out to get a new deal. Thanks to that salesmen can concentrate on the clients that are most probable to make a purchase and they know what to do to increase the chance of winning the contract.
AM: Is there one company that you particularly want to outrun? And of course why this one?
MS: In the previous answer I mentioned our competitors but we don't have this one company that we would be obsessed to outrun. In general, we don't really care so much about the competitors – there are so many of them that we could actually use all of our time to compare and discuss their moves. We have our own idea about the solution for a leaking sales pipeline and we work to make it the best.
AM: The future of the product is (if you can tell us which way you want to go, what you bet on and which destinations are the first on your list)?
MS: We will follow the goal of facilitating the work of salesmen and their managers. We do it through automating arduous, repetitive activities e.g. manual data complementing, allocating tasks or notifying relevant people at a proper time. We also use artificial intelligence to analyze data and suggest the next steps which will result in better effects of a salesman's work.
AM: You have just received funding. Congratulations! Your journey towards this moment was quite interesting because in fact, you weren't looking for any capital. Will you tell us about your experience so that the ones who look for recapitalization could use it instead of sending their pitch decks to VCs?
MS: Thank you. I will accept the congrats after we reach the goals. The investment is just a measure to do that. I know it sounds trivial but it really is.
Indeed, we were viable from the very beginning so we didn't need money not to "die" as it's often the case with startups. We had a stable and rapid growth so in fact, we didn't need to give away our shares for money. We even came up with a title which would perfectly match a sensational headline on Pudelek or in Superexpress "They didn't want to but they took it!!!!" ("Nie chcieli, a wzięli!!!").
We want to grow faster. We want to build a big, international company and we know how important time is. We have ambitious plans for the product development and entering foreign markets so we wanted to buy ourselves some time and quickly do things that need a bigger capital. Instead of saving some money every month for a dream innovation or better specialists, we want to provide a better product and a better operation for our customers as soon as possible. We believe that this long-term strategy will take us further than tightening belts and collecting shares.
When you look for an investor you can adopt a few strategies. You can send emails with pitch decks to hundreds of funds. You can work out an elaborate plan and look for money before you do anything. Or you can just run your normal business and wait for the right moment. We chose the last option. I think that it's important to first prove to yourself and the world that you can create a cool product, win some customers and run a viable company. It shows a potential investor that you can act effectively and you won't lose his money.
We met our future investor, Aria Fund, in May this year at infoShare, actually at a party before the conference. We could talk about the business and future plans in a nice informal atmosphere. It turned out that we understand each other very well and that we think likewise. Next day we arranged a speed dating meeting where we talked about the product, the needs and depicted a vision of our cooperation. Although we were in many more meetings this day we felt that we understood Aria the best. On the last day of infoShare we went on a cruise together and used this time to get to know each other better. I think that it was this relation and trust built over these few days that finally resulted in us meeting in Warsaw shortly after our return. We sat at a table and started to discuss the investment in details. Three months later we signed an agreement.
However – as I mentioned before – it's not the signing of the agreement that is important. It is the question if we will be able to meet its terms. That's why we focus on the goal which in short words is to maintain our current growth rate and therefore – increase our revenue by five times during the next 2 years. The goal is very challenging but realistic, based on plans and numbers.
Here's my top tip advise for the ones looking for an investor. If you don't send people out into space, don't build a new Uber or another cost-intensive business, concentrate on earning by yourself. Nowadays developing software is cheaper than ever. There are many more people on the market than ever, potential co-founders too. If you can't build a team and earn then it doesn't matter what your product is and how much you believe in it. More money and the pressure on results can make your situation more complicated than simple.
Suddenly most problems get resolved when your company starts to bring income higher than its costs and the income growth is suitably fast. At that point it's not a big challenge to get funding, investors will want to invest in you themselves.
AM: Soon the review time will come. According to you – what was the biggest "unexpected" thing about startups in 2017 and what is going to be a trend in 2018? 
MS: I think that many companies overestimated the role of mobile apps. The market shows that people are less eager to use new ones. When it comes to the SaaS market, mobile apps are still a nice and useful addition but most work is done with the use of a desktop and a web browser. Mobile-first strategies give way to customer-first strategies because after all technology is secondary. The value that we provide to the customer is more important. The fact of having an app isn't enough.
I know that the awareness about content marketing importance is here for good since this year. Polish startups certainly worked harder on it than before. Of course we have also run webinars, organized online events and produced ebooks for years earlier. However I have an impression that 2017 in Poland was very abundant in this area.
I think that 2018 will be all about various sorts of marketing videos, maybe some first examples of reasonable use of AR. Artificial Intelligence will come into extensive use in SaaS because for now, outside of the buzzy slogans and predictions, there is very little viable use of machine learning in the available solutions. I also anticipate an outbreak of applications based on API Google and Amazon in the area of speech and image recognition etc.
AM: 2018 is just around the corner. What is Livespace's wish for the next year?
MS: Nice weather and even more satisfied customers.
AM: Thank you for the conversation. We wish you further wise business decisions and may your plans come true :)
MS: Thanks and see you at infoShare!
Tags:
---
See also: