News
Stay up to speed with our events and projects.
About us
Infoshare has always been devoted to sharing practical knowledge among professionals. What started off as a modest event held at a university hall, has grown into a year-round celebration of technology.
Idea
We believe that technology is changing the world and each aspect of our lives. We promote it in the hope to inspire people to embrace it and come up with their own innovations.
We also create opportunities to network. We connect people, startups, and companies to help them grow stronger together. We also build a trustworthy and caring community for tech-oriented people.

We simply share what is worthy!
LEARN MORE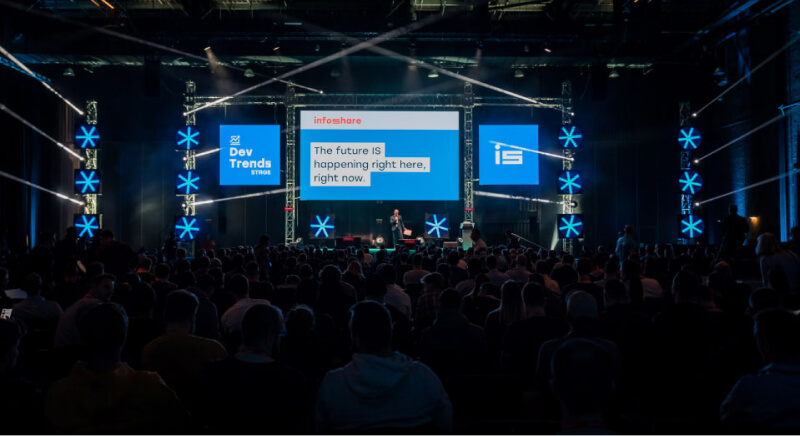 Our events
Check out our initiatives of sharing what is worthy.
Infoshare Conference
Our annual Infoshare conference focuses on tech and business. With its substantial speeches delivered by top-notch experts paired with an impressive Expo, Startup Contest, and numerous networking opportunities, it gathers thousands of participants each year. In fact, it is the biggest tech conference in CEE.
learn more
49 703
Attendees
1 415
Speakers
1 363
Partnerships
4 153
Startups*
* Infoshare Startup Contest is organized from 2014
Infoshare DEV
Infoshare DEV is a conference created for IT professionals looking for opportunities to develop programming and soft skills. Organized since 2009 in Gdańsk, it attracts over 2000 participants and over 50 partners each edition.
learn more
Infoshare AI conference & meetups
During Infoshare AI, you will explore the secrets of Artificial Intelligence and Data Science, learning from experienced developers working for leading global companies.
The Infoshare AI conference and meetups are held in Polish.
learn more
Tech3Camp
Tech3camp is a widely recognized series of meetups for the IT community in the Tri-City.
With substantial speeches delivered by representatives of the local community and networking, each meetup attracts over 100 people both online and offline.
upcoming meetup
Media about us
"Infoshare is amazing! It allows you to meet all the startup and entrepreneur from the Polish ecosystem in a couple of days."
"Infoshare - a celebration of the digital world"
"There is no such accumulation of knowledge and inspiration anywhere else"