HOW TO DISAPPEAR FROM
NETWORK IN 5 STEPS?
Powered by Niebezpiecznik
Do you know that?*
Every day, over 6 million data leaks from the Internet.


It's over 260,000 data per hour, over 4,000 per minute and over 70 per second.
Even

14 billion internet users data leaked

according to estimates

from 2013.

In 2018, only one of the top 10 data leaks

revealed

more than 1.1 billion names, addresses and contacts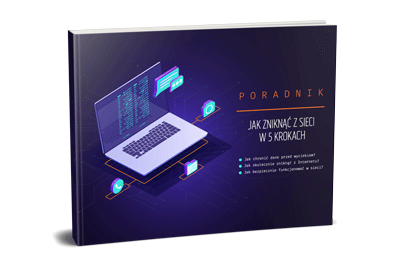 Check how to protect yourself!
Download the guide
*Avast, Breach Level Index, and Gemalto data
You'll find a special discount code for the workshops with Niebezpiecznik and tickets for Infoshare 2019 inside the guide.
The guide is in Polish.

How to disappear from network in 5 steps is a guide for programmers and more! You will learn from it, among others
How to protect data against leakage?
How to effectively disappear from the Internet?
How to function safely in it?
What programs and techniques should be used for programming?
The aim of the guide is to draw attention to the problem of data security on the Internet. Together with the experts from Niebezpiecznik, we show how to protect privacy and why it is worth doing. We answer whether you can "disappear" from the network and why it is sometimes worth creating an account on a website that you do not intend to use at all

Authors
Piotr Konieczny,
Chief Information Security Officer, Niebezpiecznik.pl
Marcin Maj,
Editor and trainer, Niebezpiecznik.pl