14.05.2020
Hungry for knowledge and new challenges – our story
How did Infoshare conference change over the years?

It started with four friends who after their day job organized a conference for IT specialists. Over the past thirteen years, the project has evolved, becoming one of the biggest tech conferences in CEE with 6000+ attendees. See how Infoshare has changed over the years and why it is so unique.
It's a special edition of #throwbackthursday. We invite you for a brief trip through Infoshare's history and its present.
Let's back to 2007
On the way to an integration trip, the four IT managers from Wirtualna Polska: Grzegorz, Tomasz, Andrzej, and Marcin came up with an idea of a tech conference. They saw the lack of events on the market with more practical approach, where experts-practitioners share their know-how. So they used their connection network to find speakers. The First Infoshare conference, mostly dedicated to software developers, took place at the Gdańsk University of Technology and gathered 200 people.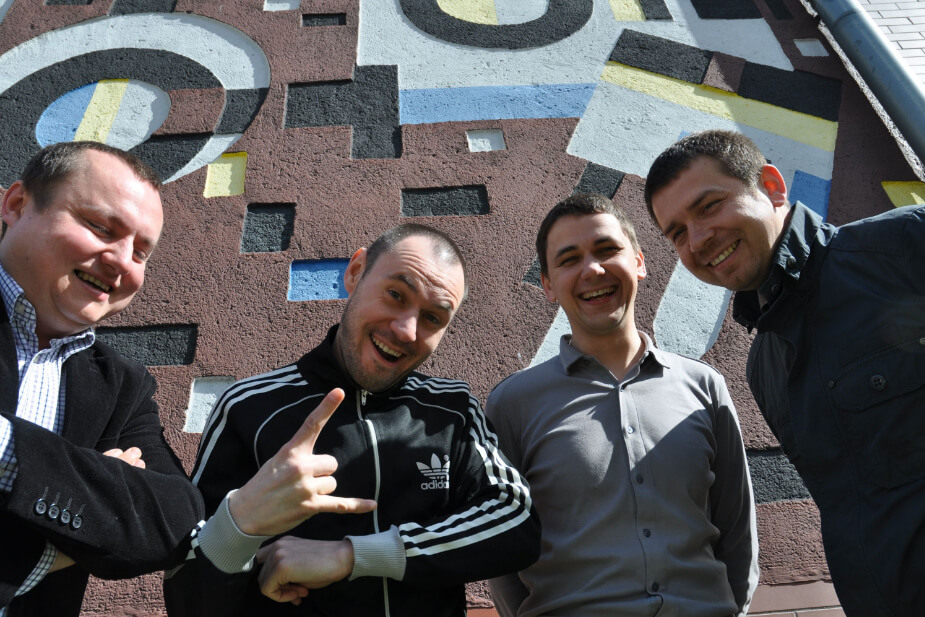 Infoshare founders: Marcin Pokojski, Andrzej Kiesz, Grzegorz Borowski and Tomasz Pawul.

The evolution [2008-2019]

New topics. 300, 500, 1000 people. Along with subsequent editions, the number of participants increased and other topics began to appear (those related to Internet like e-commerce, digital marketing). Almost 10 years ago, when startups and innovative projects began to appear on the Polish market, the new Infoshare stage started to grow. Today Infoshare is an international multidisciplinary conference, where people share their knowledge and you can find the full diversity of subjects around technology from deep content for developers like AI, big data, through startups and growing business to social media and content marketing, and many more. 

New venue. When the number of participants exceeded a thousand the venue at Gdansk University of Technology became too small, the founders with the partnership of City of Gdańsk decided to change the venue to Amber Expo. Initially, they've occupied ⅙ of the object's lower surface. They are currently booking the entire property because of the 6,000 Infoshare participants.
Over time, the conference venue, speakers, and layout have changed but one thing remained unchanged  – the space where people can share their knowledge, passions, ideas, and get inspired. The idea is still the same – sharing what's worthy.

Speakers from around the world share their knowledge

Paweł Tkaczyk, Michał Szafrański, Michał Sadowski or Janina Daily – the popular influencers and recognizable speakers often get back to Infoshare. But from the very beginning, we also strive to host on our stages the best experts and techstars from Microsoft, Google, Intel, Netflix, Amazon or Spotify, which you won't find at any other conference in Poland. 
Inspire Stage is one of Infoshare stages where attendees can learn about new business trends and listen to inspiring stories of innovators.
I was excited to be a speaker at Infoshare because it's great opportunity to get in front of the diverse audience. You have startups, companies, and investors. All in one place around technology. 
Thomas Thurston, Partner & CTO of WR Hambrecht + Co
Infoshare is a great opportunity to broaden your horizons and network. Thanks to the growing popularity and recognition of Infoshare, we receive lots of great applications under our open Call for Speakers. In the 2019 edition, we hosted more than 200 speakers from around the world. 
The thirteen years of Infoshare were full of amazing and inspiring talks. You can watch a lot of them on our Youtube channel, also - check out our article about the top 10 most popular speeches.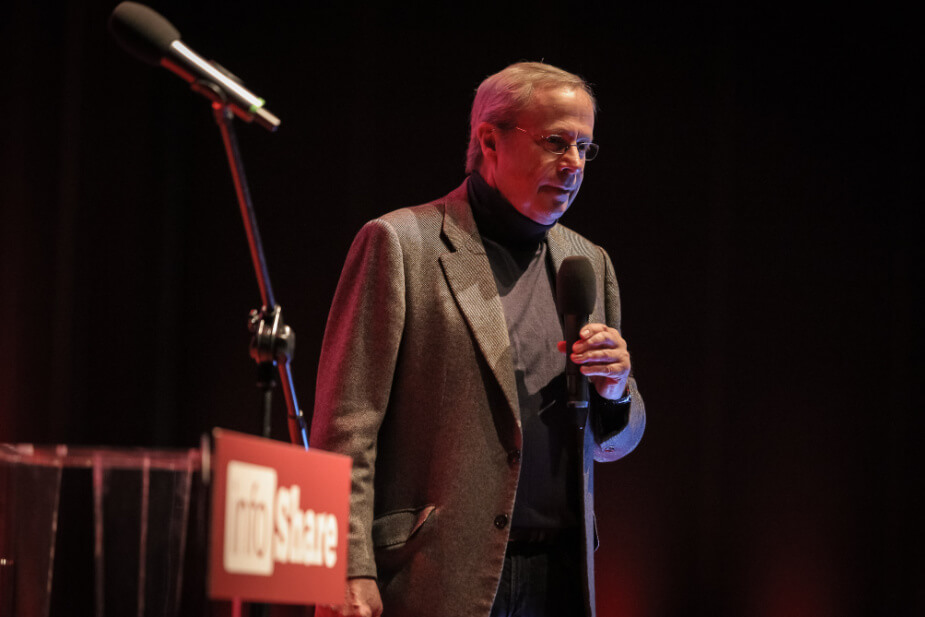 David Allen, the author of the bestseller book 'Getting Things Done' during his speech on Infoshare 2016.

Must-be for startupers

Infoshare has the magic to connect corporate partners, investors, and passionate entrepreneurs, and all together to promote the inspiration and innovation of the CEE Region.
Kristina Tsvetanova, CEO & Co-founder BLITAB

High-value content is one of the pillars of Infoshare. The second one is networking that allows participants to establish different types of business relationships, a big value, especially when you run an early-stage startup and you're searching for an investor and new opportunities. 
As we have developed the conference agenda over the years, we have noticed that the world of startups and technology is meshing, so we decided to create additional value for the group of startups. In 2014, together with the Gdańsk Entrepreneurship Incubator STARTER, we started Startup Contest, which we are organizing to this day. Last year, we received 601 applications sent from 58 countries – says Grzegorz Borowski, CEO Infoshare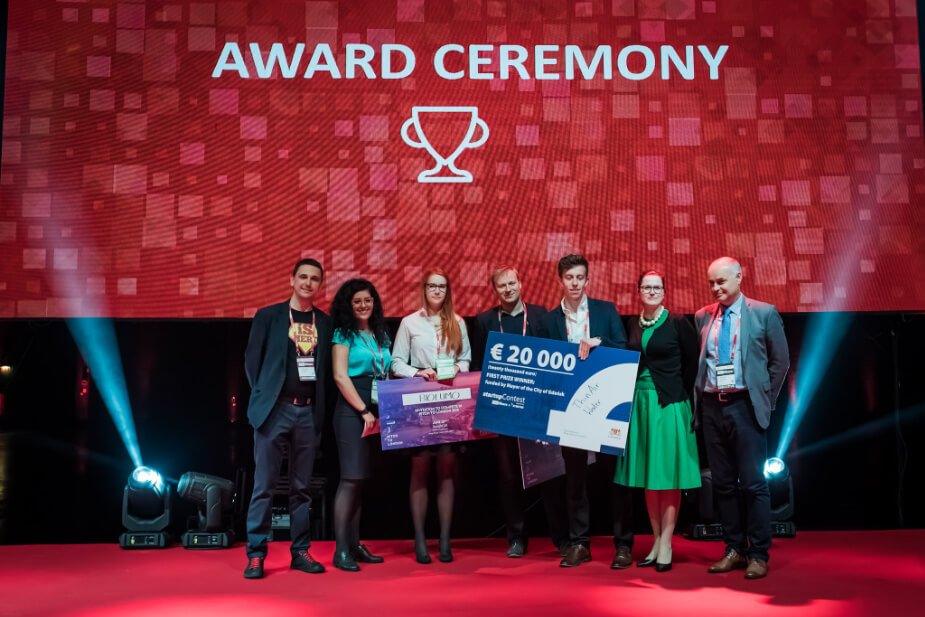 ThinAir Water - the winners of Startup Contest 2018
Outside the competition itself every year Infoshare team streaks to offer more opportunities for startups. You can participate in speed dating with investors, present your product on Startup Expo or share your scaleup story with community. As organizers, we are so happy to watch how startups can grow after Infoshare and when the winners of Startup Contest like Findair or Stethome acquire investments for further development.

But there is much more

Infoshare is such a variety. You're not just building your narrow career networking, you're also building a cross industry. It's very beneficial, because you're building more connections. People from every different type of career, background are here. I didn't expect that into a tech conference. It's really good and very friendly.
Zoë Rose, Cyber security specialist at Baringa Partners

Infoshare is a good mixture of content and networking, but don't forget about plenty of side events: before party, great networking party, sunset leaders boat race, or after-party. All in beautiful landscapes of Gdańsk. People, their energy, and the place built the unique atmosphere of Infoshare through the years.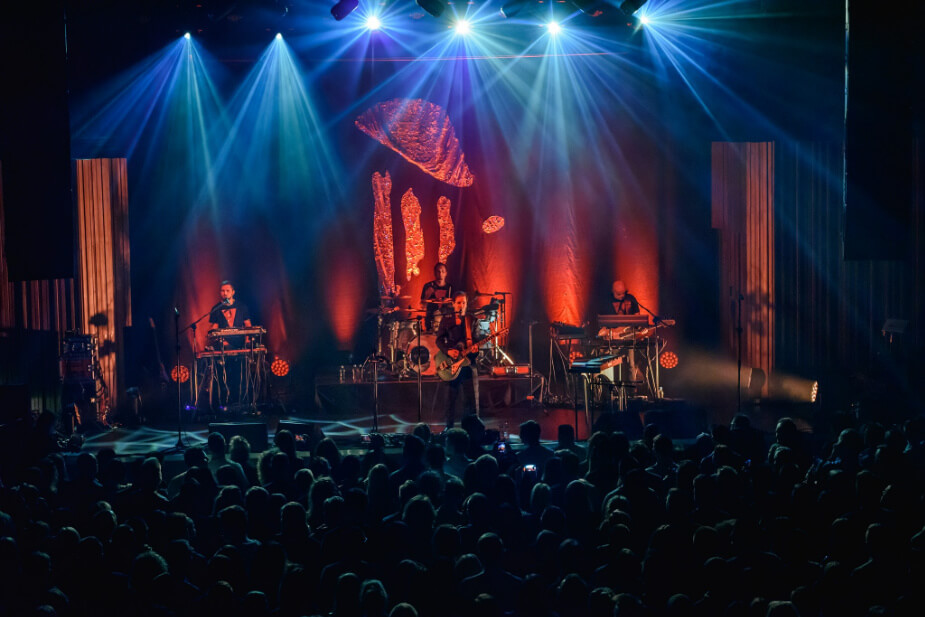 A live concert is an important part of the Great Networking Party - one of the side events during every Infoshare conference Zalewski was the star of the 2019'edition.

New on the horizon
The year 2020 has changed many plans and it is still an unexpected journey for all of us. We won't spend two days of May in Gdańsk together as usual, but Infoshare team stays strong and prepares lots of good content for you. The brand new is coming. Stay tuned.
Tags: