15.07.2021
Startup Contest winners over the years
Before we'll get to know the winners of Startup Contest 2021 in October, let's throwback the best projects in the contest's history.
A festival of innovation
Starting from the first edition in 2014, Startup Contest, the part of Infoshare conference, is a real celebration of innovation. Each year hundreds of early-stage and seed-stage startups from around the world send pitch decks to compete for the main prize (20 000 EUR in cash funded by the City of Gdansk) and present their products to international investors.  
Last year we received almost 700 applications from 50 different countries and industries such as Health & Medtech & Wellbeing, Artificial Intelligence, and E-commerce & online marketplaces.
The application process for this year's edition is open until the 31st of July 2021. Before the seminals and finals will come and we'll get to know the winners of Startup Contest 2021, let's throwback the most innovative projects in previous editions of the contest.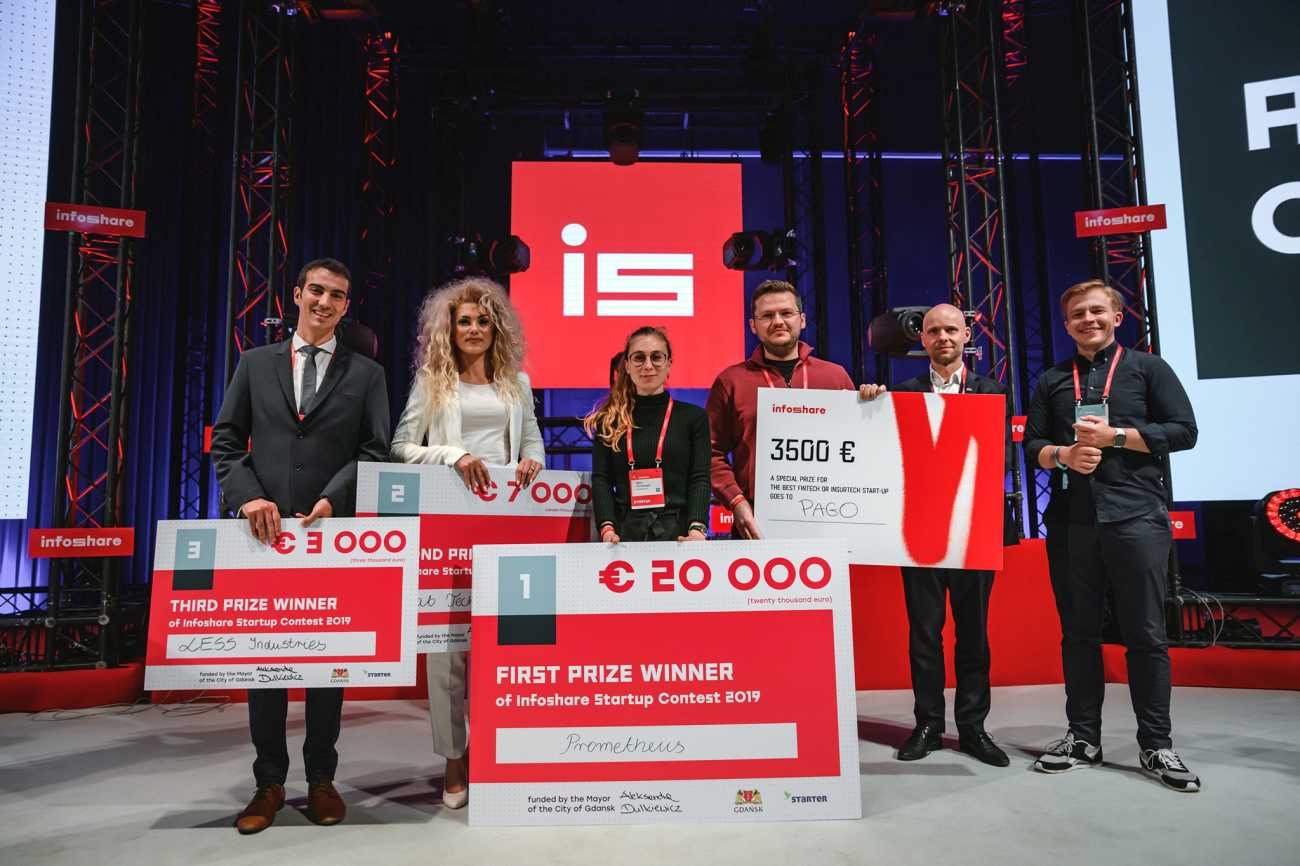 Startup Contest over the years [all winners]
CTAdventure (2014)
Conducting experiments in a virtual laboratory? It can be fun and work well. Professor Why – an educational game created by Polish company CTAdventure, won the main prize in the first Startup Contest. The game was dedicated as support in learning chemistry for children age 10-15.
Professor Why combined the elements of popular games – 3D graphics, gamification, and Augmented Reality (AR) to help students understand the world of chemistry and allow them to carry out their own chemical experiments in a safe, virtual laboratory, complementing traditional lessons in primary schools with an innovative and children-friendly form. 
Today the company offers products for home use as well as educational packs for teachers. 
RoomAuction.com (2015)
In the next edition of SC within Startup Zone powered by STARTER, the winning business was a British startup founded by Bolesław Drapella in 2003. The startup presented an online booking platform. RoomAuction.com with over 55,000 hotels from 170 countries registered, is, as the company describes "a flexible, unique and efficient way of selling hotel rooms by bidding them down from the rack rates". 
RoomAuction.com became a double winner in Startup Contest 2015. It got the main prize and the title of the best project as a result of audience voting.
Nexbio (2016)
This time the winner was the company from the biotechnology sector: Polish startup Nexbio was founded in 2015 as part of the Innova-Invest project implemented by the Lublin Science and Technology Park.
During Startup Contest the company has presented a molecular analysis based on DNA researches dedicated to agriculture. Innovative solutions using Lab-on-a-chip formula can ensure more effective and environmentally friendly protection of arable crops.
FindAir (2017)
MedTech startup from Cracow, Poland won 2 contests for startups during Infoshare 2017: Startup Contest and Digital Health Hackathon. FindAir has created an innovation to support people suffering from asthma offering smart inhalers and patient monitoring solutions. 
Currently, FindAir portfolio consists of FindAir ONE – smart inhalers, a mobile app FindAir Asthma Diary, an app for data collection FindAir Research, FindAir API which helps transfer the data from smart inhalator into the system, and FindAir SDK – software development kit for remote asthma care based on smart inhalers.
In our interview back in 2017 and in the podcast from last year Tomasz Mikosz, the co-founder and CEO of FindAir told us more about building their solutions and the challenges of running a startup in Digital Health.
ThinAir Water (2018)
Startup founded by British students won Startup Contest 2018 with its groundbreaking idea to tackle global water scarcity. ThinAir Water has invented a technology that can enhance water condensation from the Earth's atmosphere and collect it for consumption. 
Prometheus (2019)
Prometheus became ahead of 600 projects from over the world competing in the 2019 edition. The Italian startup has created human tissue in 3D for pharmacological research and transplantation. The crucial technology invented by Prometheus is a 3D Bio-printer capable of extruding human cells in a controlled manner and keeping them alive throughout the printing process. Their first patented product is EMATIK - a second skin for the treatment of difficult-to-heal wounds.
Today in the company portfolio, we'll find EMATIK dedicated to animal treatment: moist patch for animal wounds healing (EMATIK Ready), PRP eyedrops (EMATIK Eyes), and PRP infiltration kit for dogs and horses (EMATIK Run).
iLoF (2020)
In the first time online edition of Startup Contest, in the finals seven startups were competing for the main prize. British startup iLoF – Intelligent Lab on Fiber has won with his solution of a cloud-based library of disease biomarkers and biological profiles.
iLoF developing platform is built on various types of technology including photonics and artificial intelligence. Currently, their researches are focused on the fight against Alzheimer's disease.
More info about the startup technology and plans for growth you'll find in episode no.11 of Grow with Tech podcast in which we hosted Luis Valente, the co-founder, and CEO of iLoF. 
Startup Contest 2021 is on
If you are a seed or early-stage startup and you're ready to present your product to international investors, don't hesitate. Let's the world get to know about your innovative idea. Send your application to Startup Contest 2021 with a detailed pitch deck, no later than the 31st of July.
Tags: