20.01.2022
Infoshare's resolution for 2022: bringing even more value to our community
Infoshare's plans for 2022, new projects and big changes
Dears,
It is a custom that with every new year starting we make resolutions; for some of us it is dropping some weight or reading more books (these are my personal favorite ones ;-)), for others it is more professional goals, but, more often than not, these resolutions tend to repeat. It's the same with Infoshare. Every year, we make the resolution to bring even more value to our events and build an even stronger community to share what is worthy.
But before I announce this year's plans and changes, I would like to start by wishing you all the best in the upcoming year. May it be prosperous and fulfilling. Let's hope 2022 brings a lot of networking opportunities and happiness!
Infoshare 2022 conference
After Infoshare 2021, many of you are probably waiting for the news about our annual conference. To be honest, I myself can't wait for another opportunity to meet with you in person. Last year's conference was very special. It was held in October, it was the first one to be available both in-person and online, but most of all, it was a chance to celebrate this event together and meet again face to face after the online IS2020. I cannot stress how much I and my team needed that energy that can only be felt during the in-person event.
This year, we planned to organize the conference, much like a couple of months ago, available both online and in-person at our usual venue but in much warmer weather. The Infoshare 2022 conference was supposed to be held in May. Unfortunately, due to the current pandemic situation AmberExpo, our designated venue, is unavailable to us in that month. AmberExpo currently serves as a temporary hospital and will continue to be used as such until the end of June. I regret that we cannot organize our conference at that venue in May, sure, but saving lives always comes first.
As soon as I learned the news about AmberExpo, I knew the conference couldn't be organized the way we had imagined. But the past two years have taught me and my team a lot and we stay agile. There were several factors that we had to consider in light of new circumstances. We wanted to keep the in-person & stream format of the conference as well as the quality and overall atmosphere of the event. But most of all we wanted to ensure everybody's safety at the venue with particular regard to the ability to keep a safe distance from each other. All that has led me to the decision to keep AmberExpo as our conference venue and postpone the event to October 6-7. The registration for the event will be open soon; please sign up for the reminder to ensure you don't miss it.
If you were counting on a conference held in May, you might consider joining us for Future3, which until now was just a career fair but this year it is changing and growing. I'm going to talk more about it in a moment.
More events for tech enthusiasts
From the very beginning, our mission was to share information about tech and innovation, to share what is worthy. While the Infoshare conference is our biggest event, my team and I like to think about it as a cherry on top of our year-round projects: 
One of them is Tech3camp, a series of meetups dedicated to IT professionals. Each meetup consists of a couple of (most often three) 40-minute expert lectures and networking over pizza and craft beer.
Another project we organize is Infoshare Roadshow. Although we love our beautiful city of Gdańsk, every once in a while Infoshare hits the road. We visit other cities to bring them our meetups, also dedicated to IT professionals and accompanied by networking over pizza and craft beer. 
We also organize Pipeline Summit, which is devoted to effective B2B sales in tech companies. The event is dedicated to tech sales specialists, startuppers, tech company founders, and all sales enthusiasts interested in the latest techniques and trends.
Every month we send out three thematic newsletters with news and trends in the areas of Software Development, Marketing, and Startups. Each includes links to thought-provoking articles chosen by experts and a free recording from the Infoshare conference stages.
Last but not least, every year we organize Future3, one of the biggest IT job fairs in Poland… and big changes are coming here!
This year we also organize two new projects:
Within the Parking gets Smart project, of which we are partners, we organize a hackathon designed to inspire new solutions in the area of smart parking and smart mobility addressing the needs of either residents or travelers & tourists or local administration. 
We are also going to conduct 11 online webinars promoting knowledge about innovation, technology, and startups within the SmartProgress project.
Future3 evolves – still a career fair or a new IT conference?
Future3 started off as an IT career fair, where both students and experienced devs could meet recruiters, discuss their perspectives and find themselves full-time positions or internships. We first organized Future3 in 2019 and even back then it was the biggest IT career fair in northern Poland. 
Last year, due to the ongoing pandemic, we organized the online version of the event gathering 2196 participants. Over 40 companies, including such industry giants as Intel, Aspire Systems, Sii, Boeing, Lufthansa Systems, Nordea, and Arla, joined us for the event and posted 407 job offers. The 2-day fair included also speeches delivered by recognized domestic experts; 5 speeches for each day of the event. 
This year we plan to go bigger and bolder. This year we want to share even more of what is worthy. That's why this year we decided to reshape the structure of Future3 and transform it into a conference with 2 stages devoted to substantial speeches for IT professionals at every level of experience. This means that, while juniors, students, and aspiring devs can still learn a lot, the event will offer much more to mids and seniors to help them further their knowledge.
Infoshare F3 – up with the new
Due to the changes and to cut ties with the old format, we won't be calling the event Future3 anymore. If you think about it, the event is kind of a foretaste of Infoshare conference but dedicated solely to IT professionals. As it draws so much from Infoshare conference, we decided to name it Infoshare F3. 
Infoshare F3 is going to be held in person in Gdańsk in May. The attendance is free of charge. Make sure you don't miss it!
Join us for our events in 2022
I'm thrilled I could share this news with you! I'm sure our resolution for this year is going to fulfill. Let's get together, network, and get inspired. Let's share what is worthy!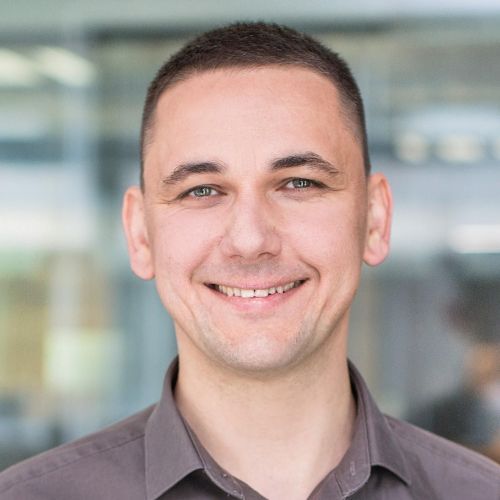 Best,
Grzegorz Borowski
CEO at Infoshare
Tags: