28.06.2022
Final Call for Infoshare 2022 Startup Contest
Don't miss out on the opportunity to win up to 20,000 EURO in cash!
The deadline for submitting applications for our annual Startup Contest dedicated to seed and early-stage projects is fast approaching. Startuppers can apply and submit their pitch decks only until June 30.
More than just a pitch competition
The best innovators can win a cash prize of up to 20,000 EUR and capture the attention of the media, but our Startup Contest is more than just a pitch competition. Since the contest is taking place during Infoshare 2022, the celebration of technology and innovation, it's a great opportunity to boost your startup in several ways.
Network with investors and fellow entrepreneurs and learn from their experiences. Make a lasting impression on our audience and get potential clients. Most importantly, don't forget to seize this opportunity to find business partners among investors, representatives of VC funds and leading companies watching the competition.
Take it from startuppers and investors
Last year we asked our attendees to share their thoughts on the Infoshare conference and the Startup Contest itself. Play the video below and check out what they had to say about the event: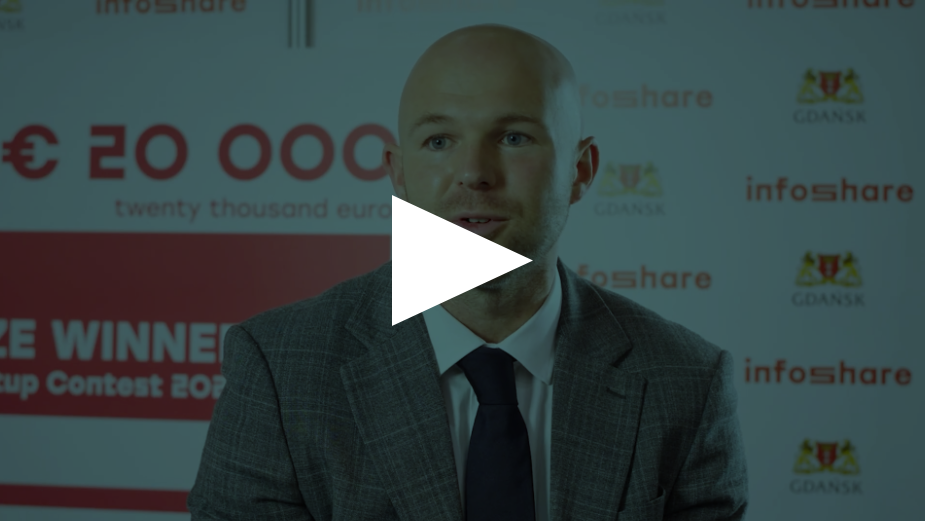 Startup Contest schedule
Out of hundreds of startups competing in the contest, the best 20 will get to pitch their projects on one of the stages of the Infoshare conference. The international jury will evaluate i.a. business potential of the projects, team and innovativeness of the presented solutions. The best 5 startups get to compete in the final and the top 3 will be awarded. The main prize is 20,000 EUR in cash. Second and third place will receive 7,000 and 3,000 EUR respectively. The total prize pool is 30,000 EUR in cash, funded by the City of Gdansk – the Main Partner of the conference.
More details on the schedule and evaluation criteria are available here.
Winners of previous editions of the Startup Contest
Over 4000 startups in total from all over the world took part in the previous editions of our Startup Contest. Although all are worth attention, some of them truly shine. Among the winners of previous editions are such great projects as:
French startup BeFC has developed technology to generate electricity from paper and water. The startup is growing robustly and, after winning at Infoshare 2021, has been further recognized at other tech events, including GITEX 2021 and CES 2022. BeFC is aiming for mass production from 2023.
UK-based startup iLoF has invented a cloud-based library of disease biomarkers and biological profiles. Their research is currently focused on the early detection of Alzheimer's disease symptoms. The company is participating in the Building Tomorrow Together - Innovation in Dementia program, working with several healthcare institutions in Portugal.
Prometheus' flagship product is EMATIK, a "second skin" for the treatment of hard-to-heal wounds used in veterinary medicine. The company currently operates mainly in Italy but plans another round of investment by the end of this year to enter more markets.
Polish FindAir offers smart inhalers and patient monitoring solutions. Since winning the Startup Contest, the startup has been expanding and attracted several investors.  On its website, the company boasts that more than 10,000 people around the world are already using FindAir solutions to better control their asthma.
Polish Nexbio is dealing with the analysis of nucleic acids (DNA, RNA) for individual customers, research centres and biotechnology companies. NEXBIO's innovative technologies support, among others, agriculture in integrated pest management by analyzing plant pathogens. 
Join the winner circle
It's your last chance to apply for this year's Startup Contest! Prepare your pitch deck and apply today to present your idea at the biggest tech conference in CEE and compete for up to 20,000 EUR in equity-free cash.
Tags: