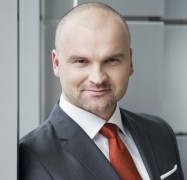 Rafał Brzoska
Rafał Brzoska is the founder and co-owner of the Integer.pl Group, whose illustrious subsidiaries include the 24/7 InPost, the largest international network of parcel lockers as well as the largest private postal operator in Poland. For many years, the innovative services provided by these companies have been successfully revolutionising the Polish and international postal and courier sector. The Integer.pl Group already operates in over 22 countries but continues its rapid expansion within existing and into future markets.
Rafał specializes in conceiving, developing and implementing sales strategies; and generating new business opportunities. Besides managing the entire Group, Rafał's responsibilities include winning key business partners and contracts; and building a long-term development strategy based on innovative technologies and creative business solutions. Rafał is an experienced manager and a gifted strategist and visionary with an aptitude for predicting and setting trends in the postal and courier market. His pioneering approach to business and management has helped promote Polish innovativeness throughout the world.
In under 5 years, Rafał's bold embrace of technological and business innovation and his strategic vision had transformed the postal and courier industry- bucking the stagnation of previous years and rediscovering the potential of the postal market, Rafał went on to prove the export potential of his companies' brands and services. Rafał specialises in emerging markets with high growth potential.