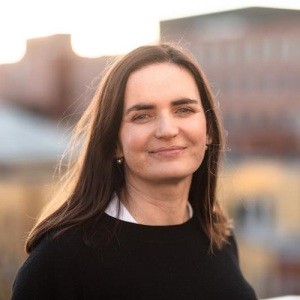 Alina Prawdzik
At innogy Innovation Hub, Alina is Managing Partner responsible for operations in Central-Eastern Europe and Head of 'Smart & Connected Buildings', one of the company's areas of investment, encompassing proptech. 
A graduate of the University of Gdansk, Universität Tübingen, Copenhagen Business College and recently Leadership Academy for Poland. She began her corporate career working in Brand Management at Procter & Gamble's Central Europe North.
In 2006 Alina became Country Manager at eBay Poland. In 2008 she was Head of European Emerging Markets (Austria, Belgium, Spain, Switzerland and Poland) at the European eBay headquarters in Bern. Between 2009-2013 as General Manager International Expansion eBay Europe, she introduced eBay to 9 new markets, including Russia and Scandinavia, growing the company's business in those markets to over USD 1 billion.
Between 2014 and 2017, Alina managed her own e-commerce strategy consultancy firm and worked for clients in Poland and abroad. She is also a business angel and invests in startups in Poland and across Europe.
 
Past Presentations
Corporate Venture Capital: A Deal with the Devil?
12:00 - 12:30, 9th of May (Thursday) 2019/ Growth