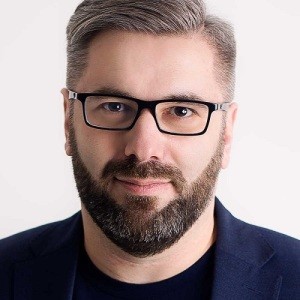 Paweł Tkaczyk
Paweł Tkaczyk – jak sam twierdzi – zarabia na życie opowiadaniem historii. Buduje silne marki – pracuje m.in. z Agorą, Grupą Allegro, wieloma mniejszymi firmami.
Doradza startupom i innym przedsiębiorstwom – jako mentor np. podczas Startup Weekend czy Startup Fest. Dzieli się wiedzą – piszę blog o budowaniu marki, popełnił trzy książki: "Zakamarki marki", "Grywalizacja" oraz "Narratologia". Prowadzi szkolenia z marketingu, brandingu, social media…
Kocha literki niemal w każdej – poza Comic Sans – formie. 
Upcoming Presentations
TBA
10:10 - 10:30, 30th of September (Wednesday) 2020/ MARKETING STAGE
Past Presentations
Marketing w czasach zero-click, czyli o wkładaniu wszystkich jajek do jednego koszyka.
15:20 - 15:40, 09th of May (Thursday) 2019/ Marketing
for Conference Passes+ only
Dzień, w którym maszyny nas okłamią. O przyszłości storytellingu i sztucznej inteligencji.
11:15 - 11:45, 18th of May (Thursday) 2017/ INSPIRE STAGE
Pytania o markę – jakie pytania zadać, żeby sprawnie zabrać się za budowanie silnej marki?
14:00 - 17:30, 19th of May (Thursday) 2016/ WORKSHOP STAGE #3
"Kultura zjada strategię na śniadanie" – 9 przykazań tworzenia kultury, która zwycięża na rynku
11:00 - 11:30, 19th of May (Thursday) 2016/ INSPIRE STAGE
Co po "Celebrity Splash"? – przyszłość cyfrowej rozrywki [PL] / Beyond "Celebrity Splash" – the future of digital entertainment [EN translation available]
15:00 - 15:30, 12th of June (Friday) 2015/ MAIN STAGE
Groźba nieśmiertelności
14:30 - 15:00, 22nd of May (Thursday) 2014/ MAIN STAGE