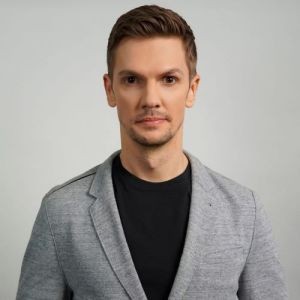 Kamil Kozieł
Kamil Kozieł opracował metodykę 4 warstw pozwalającą zmierzyć wartość i emocje w prezentacji. Jest przedsiębiorcą. Swoją pierwszą firmę, IT School, założył mając 20 lat. Był współwłaścicielem Stand-up Polska i ORA-600, obecnie zarządza PrezART.
Wystąpił na trzech konferencjach TEDx, a jedno z tych wystąpień wirusowo rozeszło się w Internecie. Aktualnie jest kuratorem edycji TEDxKoszalin. Był najlepiej ocenianym prelegentem na licznych wydarzeniach, w tym zwycięzcą prestiżowej konferencji "I love marketing". Na scenie wykorzystuję znajomość komedii, storytellingu i procesów poznawczych.
Past Presentations
Ekonomia behawioralna w służbie sprzedaży i marketingu
14:10 - 14:30, 25th of September (Friday) 2020/ MARKETING STAGE
Narracja zmieniająca postawy odbiorców
16:20 - 16:40, 08th of May (Wednesday) 2019/ Marketing
for Conference Passes+ only
O treściach, które tworzą społeczność. Czyli jak pisać, żeby angażować.
12:20 - 12:40, 22nd of May (Tuesday) 2018/ MARKETING STAGE
for Conference Passes+ only
O przepalaniu budżetu reklamowego
11:30 - 12:00, 17th of May (Wednesday) 2017/ MARKETING STAGE
Skończ prezentować, zacznij fascynować! [PL] / Stop presenting, start fascinating! [EN translation available]
09:30 - 10:00, 12th of June (Friday) 2015/ MAIN STAGE
Sekrety mistrzów TEDa, czyli jak nie przegrać kolejnej prezentacji
16:00 - 16:30, 23rd of May (Friday) 2014/ XL STAGE