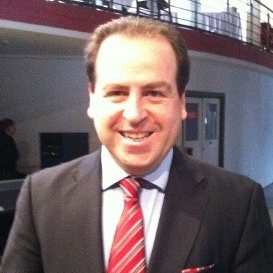 Prof. Panayiotis (Panos) H. KETIKIDIS
Professor Panayiotis Ketikidis is the co-founder of the Hellenic Business Angels Network (HeBAN), Vice President of the European Business Angels Network (EBAN) – Central Eastern Europe (CEE) Committee, Chairman of the South East European Research Centre (SEERC) and the Vice Principal for Research, Innovation & External Relations of CITY College - An International Faculty of the University of Sheffield. He has over 30 years of experience in management, education, innovation, research, and competitive research funding with various networks established as a result of this experience. He is invited regularly as Keynote speaker in several national and international business and academic conferences.
Prof. Ketikidis is  the President and founder of the Triple Helix Association Chapter of Greece (established in 2013); Member of the Board of the Innovation Zone of  Thessaloniki [(AZK) 2013-present]; Member of the Board at Technopolis – Thessaloniki  ICT Business Park (2010-present); Emeritus Member of the Exporters' Association of Northern Greece Management Board [(SEVE) 2006-present); Member of the Administration Board – Centre for the support of female employment and entrepreneurship ERGANI (2006-2016). Prof. Ketikidis is the Chief Editor of the International Journal of Innovation & Regional Development (IJIRD), and Founder of the International Conference for Entrepreneurship, Innovation and Regional Development (ICEIRD).
Past Presentations
Panel: Cross Border Investing in the CEE region-leveraging networks to make better investments
11:00 - 11:20, 23rd of May (Wednesday) 2018/ STARTUP STAGE