22.02.2019
iSmentors: Why Every Entrepreneur Should Join a Mastermind
There's an idea that entrepreneurs and founders are always 'schmoozing' --  that when they surround themselves with people, there's always an ulterior motive. 

22.02.2019, added by Eric Siu, the CEO of digital marketing agency Single Grain and co-founder of SaaS SEO split-testing tool Clickflow.
There's an idea that entrepreneurs and founders are always 'schmoozing' --  that when they surround themselves with people, there's always an ulterior motive. And yet, joining fellow entrepreneurs through organizations and masterminds isn't about getting the next client, or buttering up that potential partner: It's about building relationships and learning from each other.
 
That's why I started throwing founders' dinners and joining Masterminds — not to find new clients, but to cultivate relationships with people who get the particular struggles and life experiences of an entrepreneur. Everyone's passionate about their businesses; they're trying to build something and it's hard for people outside those roles to understand. As a result, these dinners and trips are all about helping each other out and creating lasting relationships.
 
I wouldn't even say it's networking so much as it is cultivating long-term friendships that can last a lifetime. 


ENTREPRENEURSHIP CAN BE A LONELY GAME
  
Here's the funny thing about being an entrepreneur: You may get into it because of some idea you have about unshackling yourself from the 9-to-5 lifestyle and living the life you want or pursuing your dreams. 
 
But ultimately you might find that you're a workaholic. Many of us are just heads down, working, all the time. To be able to just get together for one night once a month with a group of like-minded people is really powerful. And that's why I go to conferences and throw events, dinners, and happy hours, too.


WHY ENTREPRENEUR ORGANIZATIONS ARE PRICELESS
  
Joining groups of like-minded entrepreneurs is crucial because they know what challenges you're going through, they've been where you've been, they know exactly what's going on, and they can speak the same language. Some of your competitors may be in the group as well, but you're still sharing knowledge, being open, and going with the understanding that there's a lot of business out there for everyone. It's not only the face-to-face meetings, but the online forums that are priceless. Any time of day or night, you can get feedback from the best and brightest. I go to a large group event once a month or so, but we also meet up separately and on Slack as well (I definitely recommend putting together a Slack group).
 
My entrepreneur organization also throws multi-day masterminds — for instance, they'll book an Airbnb out of town. (The last was in Cabo San Lucas.) It's so important to have a beautiful space outside of your normal environment. When we all stay together it's a different vibe than if we all meet next to our office. 
 
Often, the people that you surround yourself with are the ones who are going to take you to the next level. Don't get me wrong, I'm not saying to isolate yourself from your friends or anything like that, but you are the average of the five people you hang out with most, right? Ultimately, you don't know what you don't know, which is why many heads are always better than one. I've been in these organizations for years now, so remember that over time your relationship with the group will change. 
 
When I started out, I was a new member learning everything I could from the vets. Today, I'm moderating a group, and I'm focused on keeping everyone in my group accountable for their own growth.


TRY THROWING YOUR OWN ENTREPRENEURIAL EVENTS!
  
There are a lot of creative ways you can go about getting the people you really want to talk to and learn from all in one room. I started throwing founders' dinners a couple years ago and they've become very popular. It's simple; I book a restaurant and invite my entrepreneur friends, as well as people that I'd like to get to know better. I find conversation just flows — even if people don't know each other at the start of dinner. We're all in the same boat, so we already have a lot in common.
 
These dinners are actually a big expense, but if you throw these mastermind dinners, connect people, and have no expectations, things are going to come back around to you in the end. It's a long-term investment that I've always found pays off. And you can always take a more intimate route and invite people to your home. You can even get a caterer for the night, but it's always nice to bring people into your personal zone. 


PUTTING ON A WORKSHOP OR MASTERMIND

There are a lot of logistics involved in putting on a full event, which I won't go into here, but once you get to running the groups, there's one thing you need to have: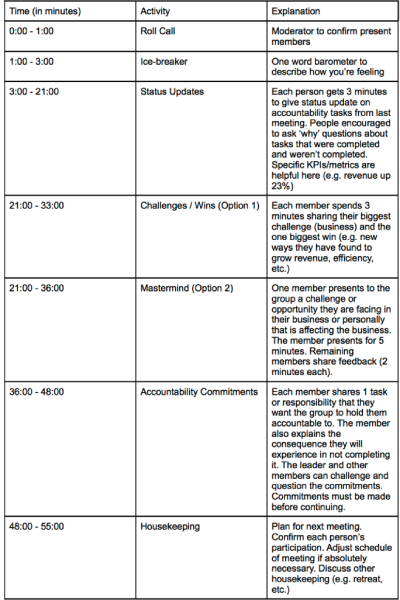 It helps your group stay focused, know how much time they have to talk, and helps them prepare.
 
Here are some tactics I've found effective in running events: 
 
Start with a three-minute check-in using something like an iPad timer or a phone timer. That way nobody goes overboard talking about themselves.
Put someone in a hot seat for 20 minutes. That person will share what they're currently struggling with. Everybody can then jump in and share their experiences —  in a tactful manner — to provide feedback, as well as empathy.
Entrepreneurs' Organization actually has 'the gestalt protocol.' None of us are allowed to share direct advice. Instead, we just share our own experiences and the listener can pick up what is helpful from those anecdotes.
Finally, it's a good idea to follow up after the meeting by sending the group everyone's contact info in a group email, or maybe just invite everyone who attended to a Facebook group or chat.

 

I know how much I've benefited — in my business and personal life — from entrepreneurial organizations and events. I hope every entrepreneur finds their 'people' and gets involved in a group of their peers. No one can do it alone, and we entrepreneurs have highs, lows, stresses, dreams that our friends and families sometimes can't understand. Even our team can't fully understand the responsibility on our shoulders and the passion that keeps us up at 3 am working on our business. 
 
So be proactive about joining organizations, attending events, and even throwing your own. I promise the ROI, whether emotional or for your business, will be apparent almost immediately.
Tags:
---
See also: