13.08.2018
It takes data and AI to create products people want
My journey to becoming a best-selling author on artificial intelligence and machine learning has not been a traditional one. In late 2016, I took a deep dive into AI, coming from zero experience of being a developer, statistician or any mathematics background for that matter.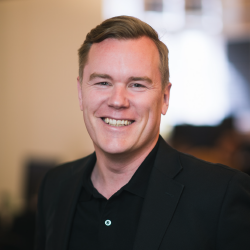 An author & speaker on AI, early stage investor, entrepreneur and also Country Manager at Finch Finland. Experienced in a variety of roles in tech, automobile industry, and SaaS, he brings the human connection and approach to business. You can read this article in Grow with Tech magazine.

I was familiar with automation and how it impacts the bottom line of businesses, and having the experience of working for Google helped me to understand how important it is to recognize what the megatrends driving business in the near future are. During the years I worked for Google, it was mobile first. How to track when someone first does a search on a mobile phone and later finishes the purchase on a laptop, how to combine and connect these two separate events to understand the behavior of a customer. So when Google CEO Sundar Pichai announced that artificial intelligence would be used in every product by Google, it was a wake-up call for me. I realized that the speed of AI was so fast that having the material in digital form just wasn't feasible, it needed to be a closed-loop environment, a book.
That revelation led to an archive of more than 400, tens and tens of books and more than a hundred interviews with people creating AI solutions around the globe, as well as people utilizing those solutions in the business environment. 
That material later became the foundation for my book Artificial intelligence, a travel guide for executives, currently available only in Finnish. Often, when you start talking about AI you hear people say that this is the same thing we've had since the 50s. Yes and no. It is true that many building blocks of what AI is today have been used for decades but the amount of data and the tools we have today to create wisdom and actionable business guidelines from the data is new. 
Looking at what is driving business results from machine learning or artificial intelligence in general, seems mainly to be machine learning, at least in the coming years. Being able to use different ML models to lower the churn, increase productivity or decrease downtime in factories is a reality today. 
When giving speeches on AI, I am commonly asked what we can we do with artificial intelligence. My reply is always, "What data do you have?" AI always needs data to be able to create and produce results.
One of my favorite examples comes from a digital product/service, the Coca-Cola Freestyle Machine and the case of Cherry Sprite. In the US, Coca-Cola currently has 40,000 so-called freestyle machines that serve 150 different types of drinks and, as of 2017, they sold 14 million servings every day. These machines are widespread in movie theaters and other popular venues.
The beef here is that the machines record all the mixes that people make. So if I take half a cup of regular Coke and then I add Fanta to it, the machine collects this data and the R&D department figure can take it from there. They realized that many people first took Sprite and then added some Cherry Coke to it to create a sprite with a splash of cherry. At that time a cherry Sprite was not a ready mixed drink in the machines. This mix was in demand enough that Coca-cola decided to start serving Cherry Sprite. 
I think this is a great example of how gathering data, recognizing patterns and taking action created a new product that there already was a demand for. 
My question to you is what could you do to you gather data to start experimenting and taking action right away?
Tags:
---
See also: